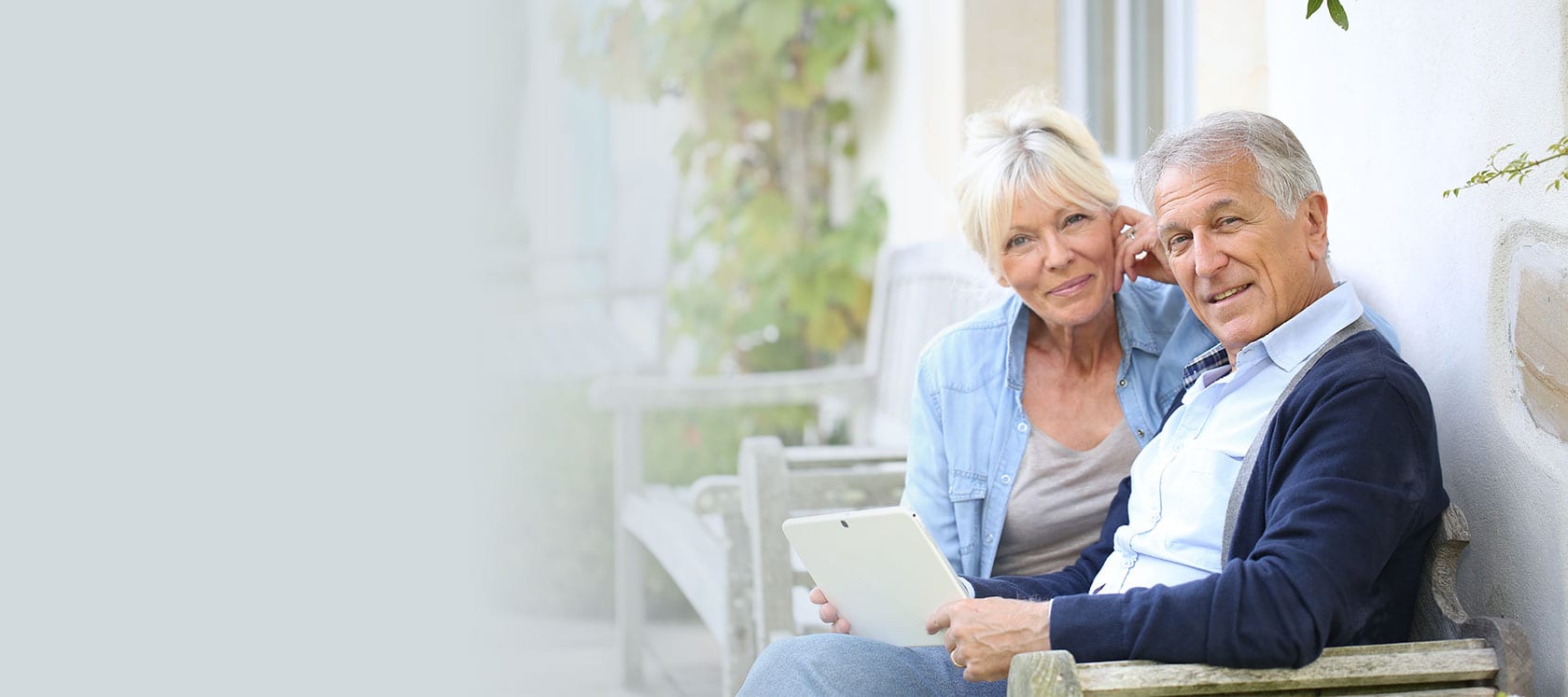 Take the hassle out of managing your medications. Let MedMinder handle everything from organizing and delivering your prescriptions to coordinating with your doctors and insurance providers- all without paying more than your co-pay.

FREE SHIPPING

PILL ORGANIZER
Welcome to a new way of managing your medication.
MedMinder is designed to make your life easier.
We understand that managing multiple medications can be overwhelming, which is why we offer adherence packaging to help you stay on track. We can arrange your medication by dose times so that you always take the right medication at the right time.
We also offer options for automatic refills, so you never have to worry about running out of your medication. We'll check for medication interactions and coordinate with your doctor if necessary. We want to make sure that you're getting the best possible care.
At MedMinder, we're here to help you. We offer monthly calls to review your schedule and make any necessary changes. Plus, you'll never have to stand in line at the pharmacy again. Switching to our service is easy. Just let us know which medications you're currently taking, your insurance details, doctor's information, and we'll take care of the rest. Our goal is to make managing your medications as easy as possible.
Let us help you take control of your health.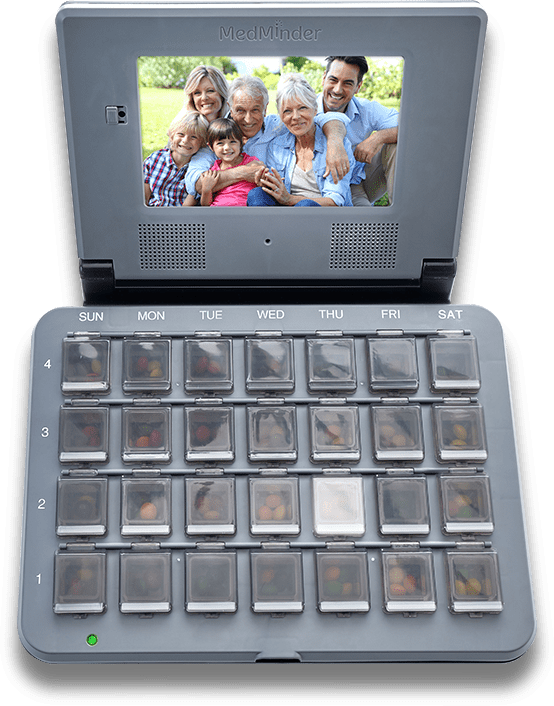 MedMinder Is Your Partner In This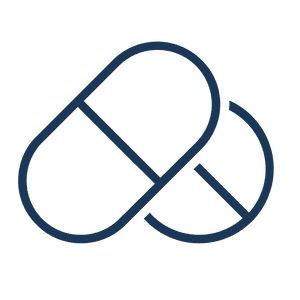 Our pharmacists take care of transferring your prescriptions to MedMinder.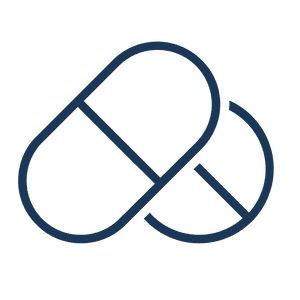 Medications are pre-organized in our pillbox, with up to four daily doses.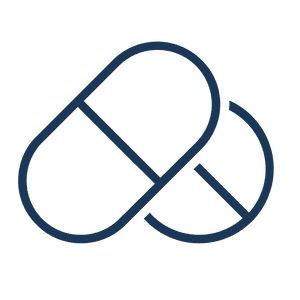 With multiple daily doses, your tray can last two weeks. With one daily dose, your tray can last four weeks!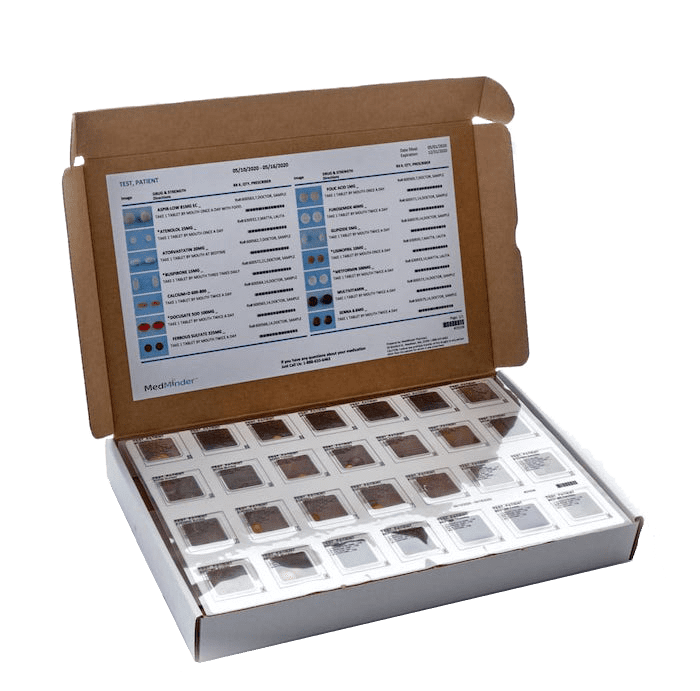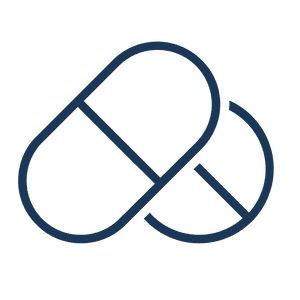 Your copay stays the same.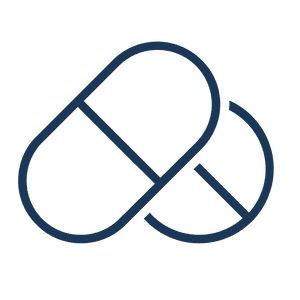 We work with most insurance providers, and Medicare Part D.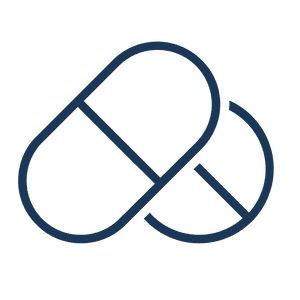 Our pharmacists will follow up with your doctors and take care of refills, so you don't have to worry.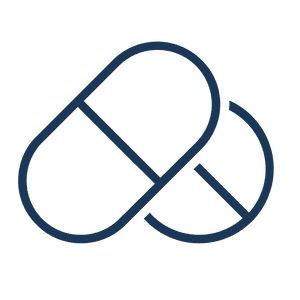 MedMinder Pharmacy proprietary trays are compatible with the included pill dispensers.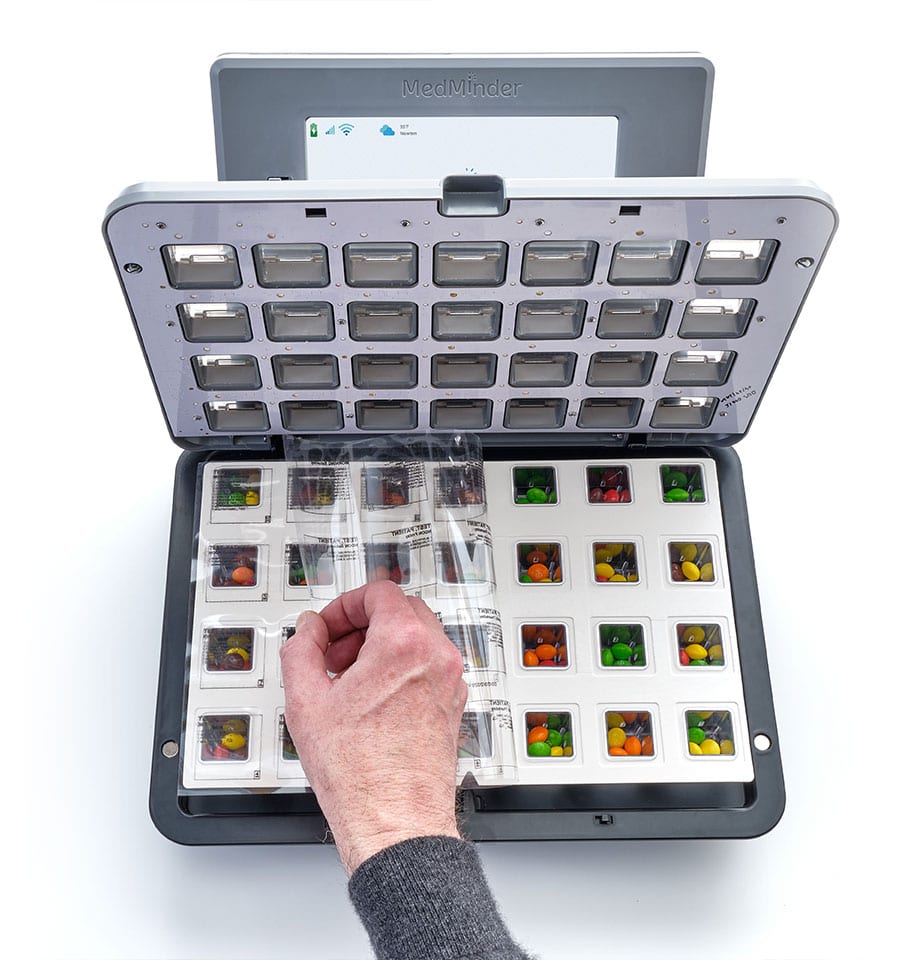 It's That Easy
There's no extra cost beyond your co-pay, and our pharmacists will take care of transferring your prescriptions and managing refills.
We will deliver ready-to-use medication trays to your home. Simply place them into your MedMinder dispenser and you're ready to go!
How Does It Work?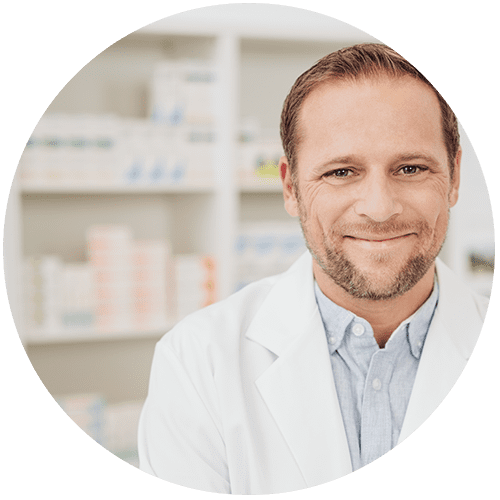 1
Easily transfer your prescriptions to MedMinder Pharmacy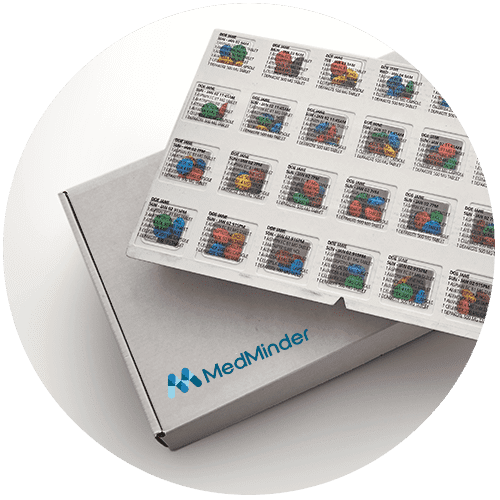 2
Medications are pre-organized – no sorting, counting or un-packing required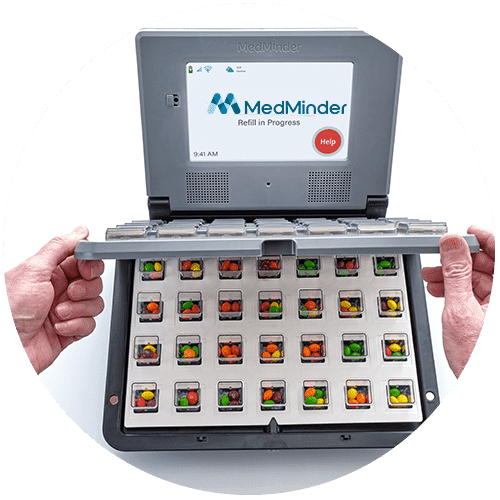 3
Each month receive a new tray of medications is delivered right to your door. Then place it in your smart pill box dispenser.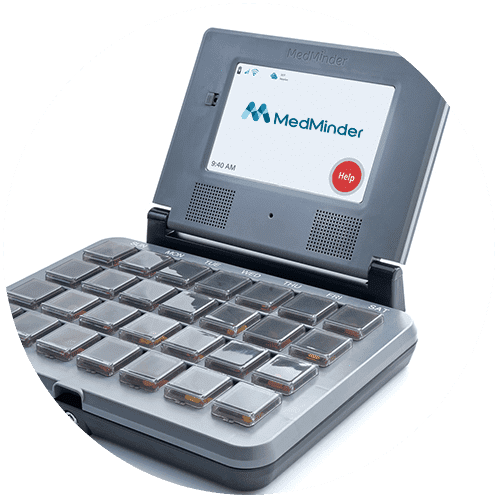 4
You will receive alerts when it is time to take your medication. Open the blinking compartment to retrieve your medication. Our pharmacy will call you once a month to check in and will also take care of refills.
We also offer annual device-only rentals.
Don't need reminders?
We also offer bubble packaging that can be used on its own.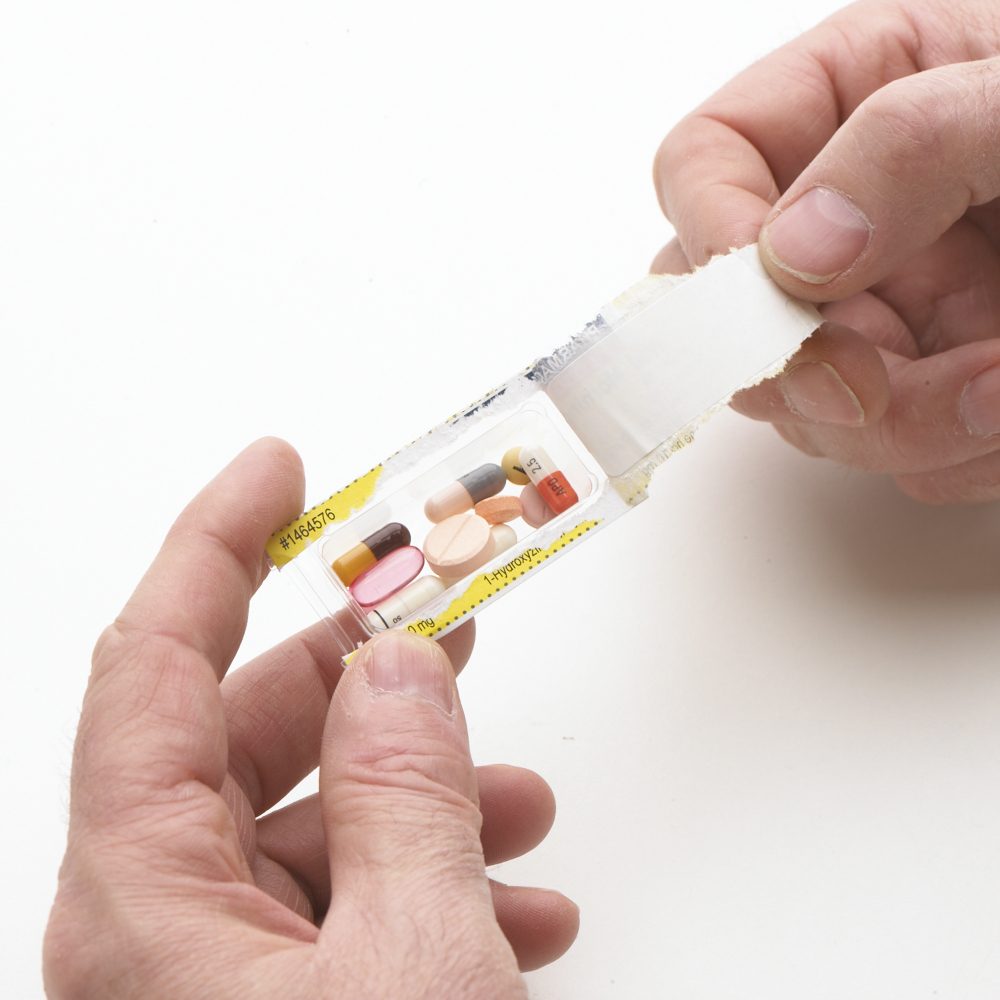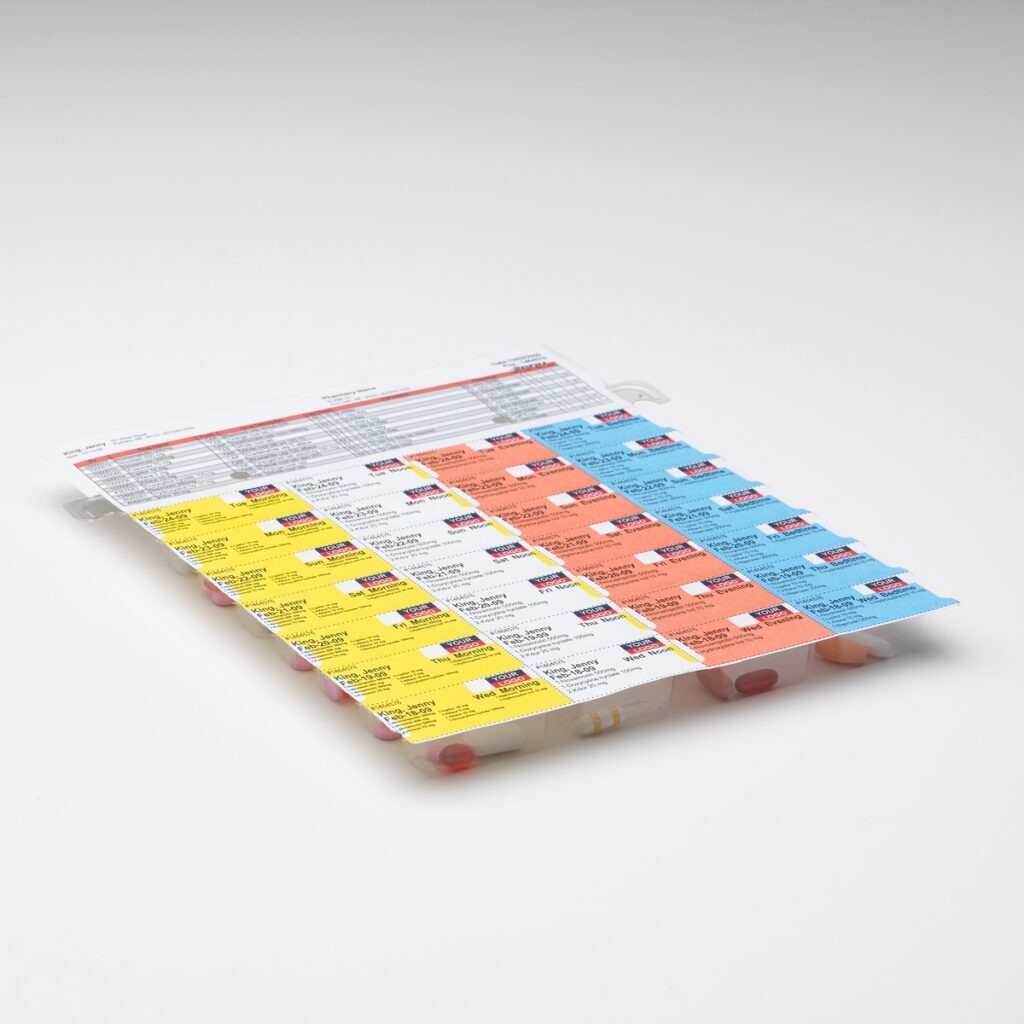 We offer numerous options for medication delivery. See all of your options.
Have questions? Call us at 1-888-MED-MIND (1-888-633-6463).